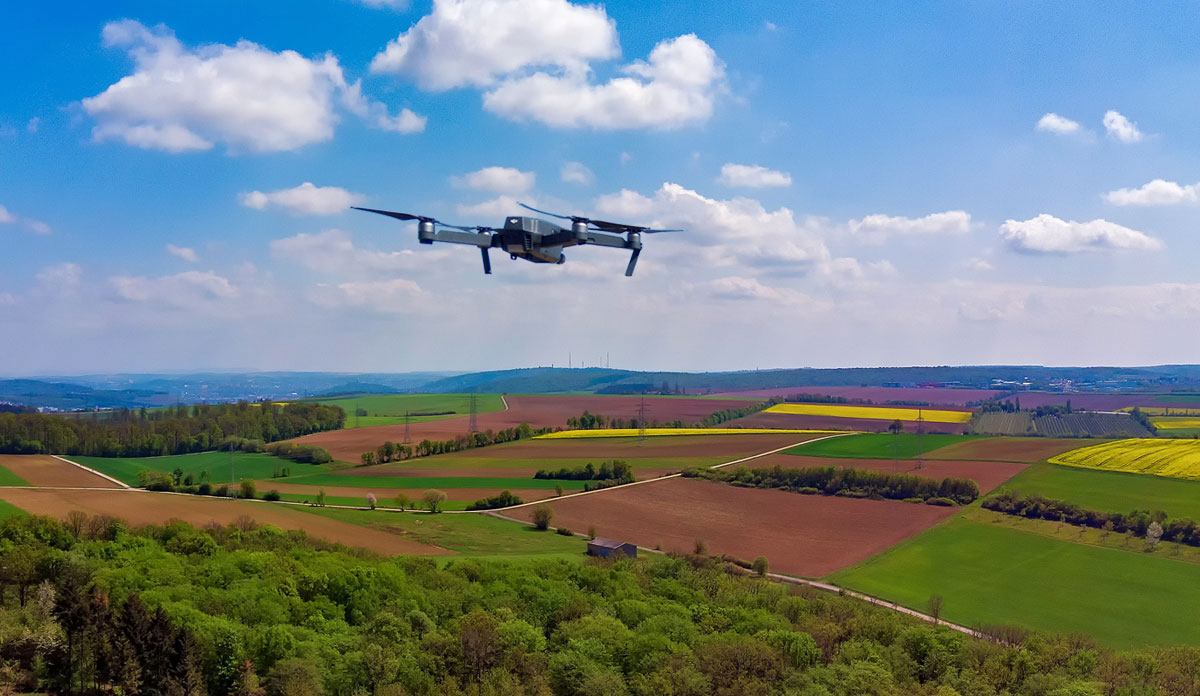 How to Sell Vacant Land with Drone Video
Reading Time: 4 min.
Selling empty land can be hard work. A land seller must inspire the imagination of investors using only the lot's potential.
Thankfully, high-quality drone footage easily triggers this imagination. Studies report that properties with real estate drone footage sell 68% faster than properties without it. However, mediocre footage will only convey a sense of incompetence to property buyers. Drone users must know how to perform the difficult task of aerial landscape photography or hire a professional service.
Here are the top tips to sell vacant land with drone footage.
Present a Professional Landscape
Land sellers may hold the false assumption that any clutter on their property will be too far from drone cameras for buyers to see. While some junk may, the clarity in modern footage means incredible levels of detail are visible. Moving objects, such as plastic bags in the wind, will especially catch the viewer's eye. Also, consider removing shrubbery or dead trees. Clearing land, especially in high-growth areas, adds to the land's value.
Guard Against Drone Hazards
Few things slow the selling process more than losing a valuable, important piece of equipment like a camera drone. Unfortunately, inexperienced pilots can easily find themselves up against issues. Telephone poles, treetops, and adjacent buildings pose a significant threat to your drone. Even worse, small airplane and helicopter pilots often fly out of small local airports at low altitudes. An accident of this magnitude could be tragic.
Before operating the equipment, scout your property, and plan a clear, well-defined path for your drone to travel. Make sure that you understand the controls and can maneuver the equipment seamlessly. Practicing near the ground is essential before venturing high into the air.
Highlight Points of Interest Nearby Using Map Animation
When selling empty land, it is crucial to focus on the surrounding area. Shoot points of interest from a high perspective. Highlight key places, such as adjacent lots, nearby roads, towns, and bridges. Doing so provides an investor insight into how he can maximize the land's potential.
If you have the skills, map animation is a great way to show a vast area while communicating what features are. When relevant, label how far points are from your property. Also, consider animating a drone icon onto a small map cutout to highlight where the camera is shooting. A well-edited video smoothly transitions between multiple locations while giving viewers enough time to absorb information.
Tell a Narrative
The panoramic nature of drone footage excites viewers. Capitalize off this emotion by weaving a sense of progression into your video. A way to ace this goal is to build up your property. Start with a map shot and pinpoint major roads and nearby towns. Then, zoom in to reveal local, connecting roads and smaller points of interest like an airport. Repeat this zoom process until you've reached your property.
This method creates a progression that people instinctively understand. When viewers can feel where a video is going, they'll be less impatient. If you're concerned buyers will want to see your property immediately, try the reverse shot. Start close to the property, then slowly pull the drone back to reveal more. The progression in this shot builds toward a map image that helps pinpoint a location.
Add Necessary Text
Editors sometimes struggle to communicate all the information they want to convey visually. In such cases, consider adding supporting text. While forcing viewers to read during a video is questionable, a few sentences may be necessary.
If you think your audience is unlikely to read comments or annotations, consider adding information such as price, location, and lot size. Also, describe the top benefits of your land. "High development prospects" and "secluded and peaceful" are examples of such descriptions.
Hire a Professional Service
A competent drone photography service reduces the difficulty of making a high-quality video. The best companies come equipped to tell an engaging story about your property. Their tested professionalism is the safest option for any land seller.
Landronize works to present your property in a high-quality, aerial video format. Our expert team of drone pilots at Dronize strategically films the surrounding area to highlight key points of interest. Contact us today to hear detailed plans on how we can best showcase your property.