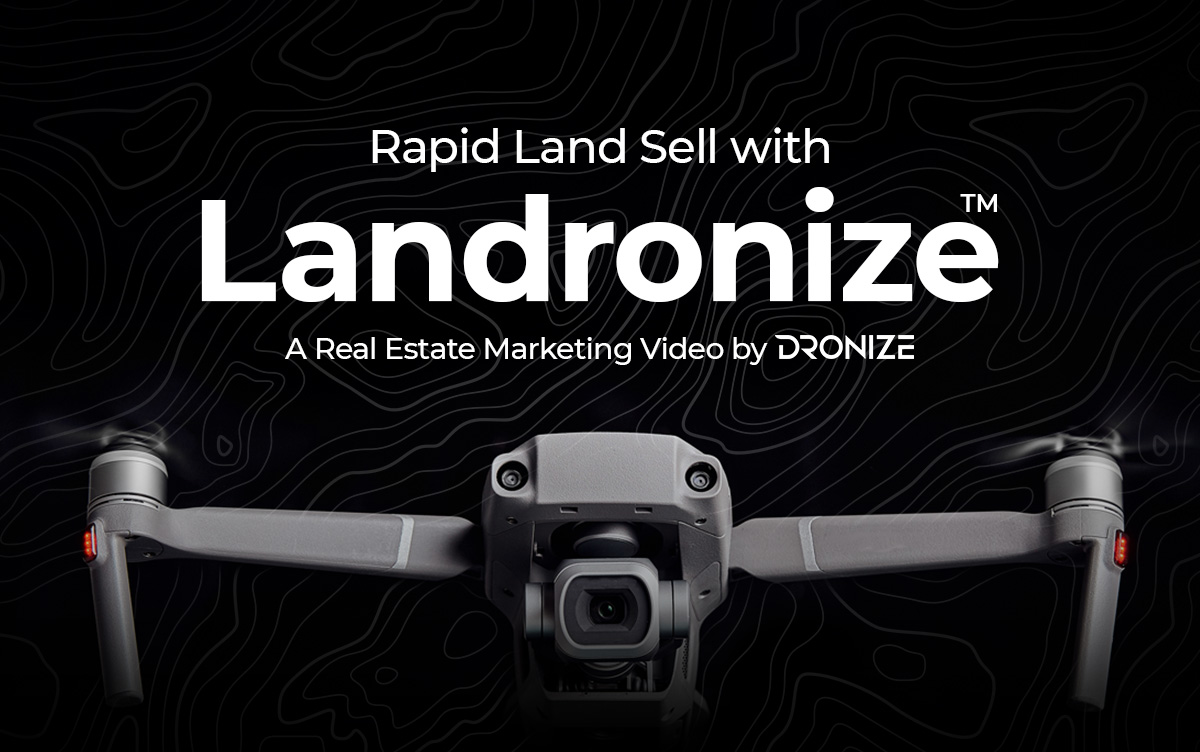 What is Landronize
Reading Time: 4 min.
Landronize offers high-quality real estate drone footage of for-sale properties and their surrounding areas. This footage helps buyers get a clear picture of what they're purchasing and highlights key points of interest nearby.
Property buyers are making a big commitment. The money investment needed to purchase land means buyers have to be sure of a choice before committing. Since most purchasers find their property on the internet, land sellers need to compete with online real estate marketing.
High-quality drone footage adds a level of professionalism to a seller that most home images fail to convey. Key investors need to understand what the property offers and that the seller is painting an accurate picture.
So, what is Landronize, and how can it help you sell your property faster?
Aerial Shots of Property
If you've already taken professional pictures of your property, you may think nothing else is needed. However, consider how dynamic a moving camera shot is. A high-quality video is far quicker and more engaging to viewers than flipping through a list of still frames.
If a potential buyer has to choose between clicking on still images of a property or a full-coverage video, the video will win. A 3D video tour tells the story of the property and gives sellers a real-life perspective of the property layout. While sellers can take a video themselves, low-quality, slow-paced, and shaky footage is a turn off for more buyers.
Landronize shoots and creates mesmerizing panoramic aerial views of your real estate with our high-end drone technology. By choosing Landronize, sellers are creating a positive brand image. Crisp video branding demonstrates a level of professionalism that customers appreciate.
Additionally, these high-quality videos immediately separate your company from competitors who still use antiquated imaging. And by placing Landronize footage on social media, tech-savvy sellers can reach an audience of young, excitable investors.
Local Area Layout
Location is crucial for real estate. However, it can be difficult for buyers to understand the layout of a property. Many buyers are unable to visit a location. If they can visit, seeing the property in person rarely does justice to its many features.
So, buyers rely heavily on seller pictures. Unfortunately, sellers struggle to get good shots of every relevant area. Even if a seller hires a professional photographer who understands key features, locations are hard to emphasize with a ground-level still shot.
Aerial video, however, excels at providing perspective. A high-quality shot, like this one, will demonstrate where the property is and how it relates to points of interest.
Here is a list of some of the features buyers value most:
Commercial Areas
Residential Areas
Schools
Development Points
Highways
Roads
Tollways
Hospitals
Entertainment
Shops
Restaurants
Consistently providing this information to buyers is crucial to painting an accurate, desirable picture of the land. Landronize understands how a commercially minded buyer thinks. Skilled drone pilots not only emphasize places with current development, but they also seek to find sections with high potential for future development. It is critical buyers understand what could be as well as what is.
Additionally, Landronize highlights the boundary line of a property. While this may seem unnecessary, many buyers struggle to conceptualize where a piece of land ends when only presented with raw numbers.
Map Animation
In some properties, points of high interest are too far away for a standard drone shot. Filming the area, then returning to the for-sale lot, lacks the impact a closer spot would have.
To combat this problem, Landronize offers animations that detail how far away a point is from another. Typically, animators work from a high shot to highlight relative distance. This process showcases the positives a point of interest offers.
Landronize works to present your property in a high-quality, aerial video format. Our expert team of drone pilots strategically films the surrounding area to highlight key points of interest — so you can sell your property fast and at the highest price possible. Contact us today to hear detailed plans on how we can best showcase your property.